Home
The project THERE - Theory and Empiricism of Religious Evolution is funded by the DFG in the Reinhart Koselleck program line. It develops a theory of religious evolution that is firmly rooted in religious studies (German: Religionswissenschaft). At the same time, it will give consideration to both the general theory of evolution and the theory of societal differentiation. The project is led by the sociologist and scholar of religion Volkhard Krech.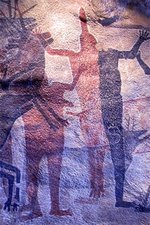 In so doing, the following aspects shall be taken into account:
THERE historicizes religion without using periodization and teleological assumptions. Furthermore, it is understood as an emerging socio-cultural phenomenon – an definition that helps avoiding essentialization. 
THERE examines particularities of individual religions in the light of overarching characteristics of the history of religion, allowing the project to consider different religious forms and to unfold a generic understanding of the term religion, which opens up comparative perspectives.
The religious studies approach is part of the cultural studies and social sciences, while at the same time it is mediated with theories from the natural sciences. This opens up alleys of inquiry for reconstructing the development of religion, without neglecting its relationships with the socio-cultural, mental, biological, and physical evolution as its environmental correlates.
In order to  accomplish these goals, the project falls back to the structural sciences – particularly systems theory, semiotics and informational theory. The expected outcome of this project will be a monograph on the theory and empiricism of religious evolution. To this purpose, the present website also serves as a platform for online pre-publication of individual chapters, in a form that invites outside comments, in order to collect valuable critical feedback before producing the monograph in print.