Sketch of a Research Program
Developing scientific theories would not been possible without the academic exchange. In order to accompany the research project THERE - Theory and Empiricism of Religious Evolution with content-based comments and subject related tips, a first sketch of the research project has been published online on the platform Scalar. The text can be commented easily with the plug-in Hypothesis. Find the manual below.
NEW: A first overview overs the paper THERE - Aspects of a Research Program (2.5 MB) (presented at Catholic Academy Berlin, 20th of June 2018)
The first part of the program has already been published in the German journal Zeitschrift für Religionswissenschaft 26 (2018), 1, p. 1–51. The second part will follow in the fall issue 2018. Find the version for citation here. (2.8 MB) .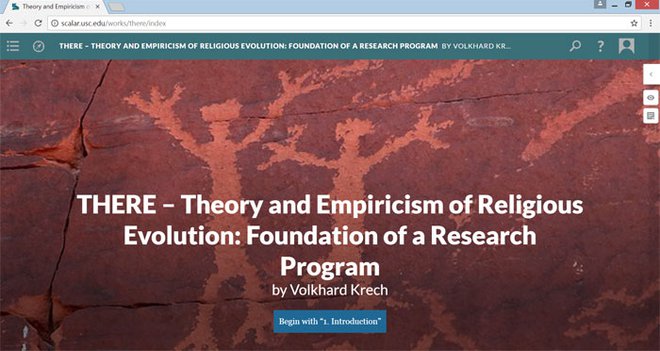 Step 1: Open the text at Scalar 2
In order to comment the text "THERE - Foundation of a Research Program" written by Volkhard Krech, you need to open it at  book.there.ceres.rub.de/works/there/. By clicking in the left upper corner you open the table of contents. Each chapter and can be opened by direct click on the respective headline in the table of contents. All subchapters can be opened by a click on the arrow ">" in the table of contents.
Step 2: Register with Hypothesis for comments Kommentieren

In order to comment the text you need to register with Hypothesis. On the right upper frame of the Scalar website you find a box with the arrow symbol "<".
Please click this arrow to open the field "Sign up / Log in" on the right side. Click "Sign up". A new window will be opened to register with name, E-mail address and pass. Please complete the registration process by checking your E-mail account.
For writing comments, return to the Scalar website and click the symbol "<" again. Click "Log in" and log on with your personal data requested.

A short manual on how the commentaries can be used will be shown. In order to comment, mark parts of the text and click the "Annotate" symbol.
You can also annotate comments of other users and make up endless commentary threads. The author will also participate by comments in the discussions.
Learn more about Hypothesis here.